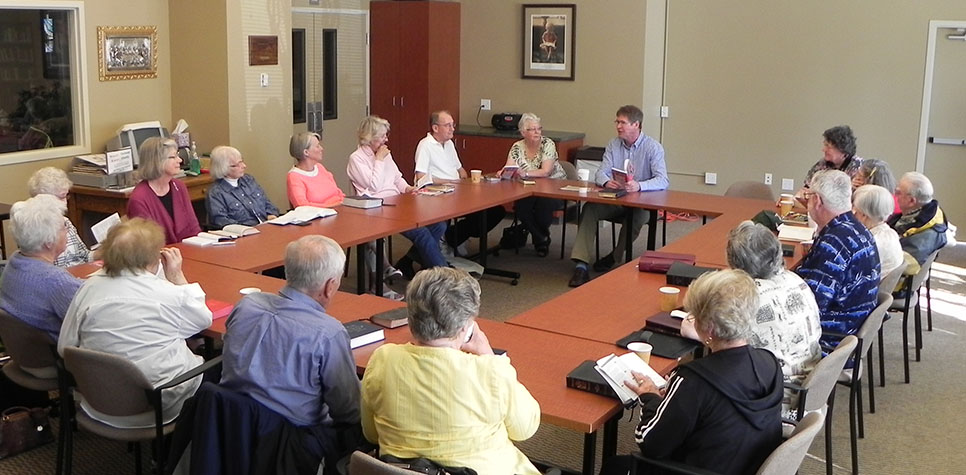 We offer a variety of Adult Bible Studies both in homes and at the church, for young and old.
Word of Life with Pastor Bjorge
Wednesday mornings, at 10 a.m., join Pastor John in the Library to discuss and study the Scripture passages that will be preached on the upcoming Sunday. This is a time for everyone to share their thoughts, ask their questions, and be guided into seeing what these Scripture readings mean for us and our congregation. This hour of study will help you hear the sermon each week differently and, at times, even allow you to shape it through offering your ideas as to what these Scriptures mean for you. Join the pastor each Wednesday beginning September 14th.
New Community
Each Sunday, beginning September 25th, you are invited at 9:45 a.m. to the Upper Room for an hour of teaching that is meant to refresh your soul and be relevant to your daily life. Through a mix of humor and insight, Pastor Bjorge opens up God's Word and offers a 45-50 minute teaching that is meant to make your hearts come alive to God's presence in your life and the world. This year he will teach on subjects such as Getting Into the Game: Living out of our Spiritual Gifts (spiritual gifts will be an emphasis at FLRB this year), What Would Jesus Say About It, and other topics.
Women's Bible Bunch
Are you looking for a fun women's group where you will discover refreshment in studying God's Word, gain in personal growth in faith and where prayer and fellowship, joy and laughter abide, and enjoy planning Church luncheons and events?  If so, then you will want to join us.  We invite women of all ages.
WHEN:   The 3rd. Monday of each month, beginning September 19th. at 12:00
WHERE: The Church Library
WHAT:  A continued study in the Gospel of John.  We discuss John the 12th. chapter – THE HOUR HAS COME – In the N.T. Wright series. Please bring your Bible, paper, pen and an expectation for God's blessings. On our 9/19 meeting, a pot luck lunch will be served. For each meeting from this time forward, please bring a sack lunch.  Beverage & dessert will be  provided for the following meetings – Oct. 17th. Nov. 21st.  We take a break in December and resume January 16th. 2017.  Contact Person: Dorothy Clausen daclaus@comcast.net , 425-776-2694.
Mary-Martha Circle
Mary-Martha Circle, a senior women's Bible Study, will have the first meeting of the year on September 8th, 10 am, in the library. New members welcome.
Carhartt's For Christ (Men's Bible Study)
 Join Bible study leader Alan Herr Wednesdays at 6:30 p.m. in the Library.